This second album by French duo Daft Punk
is a fine example of a perfect album.
---
After their successful comeback in the summer of 2013, chances are you've heard of Daft Punk. You probably have Get Lucky downloaded onto your phone, or maybe you gave Random Access Memories (which I reviewed last year) a listen. Last year, millions of people came across Daft Punk for the first time. But the funky 80's-style Daft Punk of current times is quite different from their past work.
Enter Discovery. Released just over thirteen years ago, this was Daft Punk's second album, after creating Homework a few years earlier. Homework helped to establish Daft Punk in the music industry, with popular dance hits such as Da Funk and Around The World. And while Homework was a good album with some incredible songs (namely those mentioned above), Discovery takes the bar set by Homework and snaps it in half and places the bar twice the height of the original bar. It's that good.
The tale of how I, em, "discovered" this album is a strange one. I was stuck waiting in the car outside school during January 2013, trying to pass the time while waiting for a Parent Teacher Meeting to end. I had iRadio, the most popular radio station in my locale for young people. It's radio schedule generally consists of "Top 20 Songs of the Month You've Heard Countless Times Already", but it was better than the tripe on all the other stations at 8PM. Half-asleep in the heat, I heard a song I hadn't heard before. It was unusual; electric-sounding, without the wubs we associate with more modern EDM matched with robotic vocals that fitted perfectly into the catchy melody… It was something I wasn't used to at the time, but I tapped my foot vigorously to the beat.
"That was Daft Punk with Digital Love."  said the presenter. I took out my phone, and created a new note. "Daft Punk". I'd have to check it out when I got home. I'd heard of Daft Punk before, but never listened to their music. I always assumed they were a rock band of some sort, due to the word "punk" in their name, but that was certainly not rock.
Later that week, I decided to give Daft Punk a listen. I opened up the YouTube app on my phone and typed in "Daft Punk album". This album is what returned. It was the greatest thing I had ever heard and, more than anything, made me happy. Very happy. I sat there on my own with a huge smile on my face. It was a great feeling, and one that no album has recreated since.
Discovery is an incredible album. It's the album that helped me define my music taste. If you know me, you've probably heard me talk about it. It got me interested in different types of music that I would have ignored in the past. Without it, chances are I'd still be listening to the latest hits by Rihanna and The Script. I don't think a better album exists than this fine-tuned, toe-tapping beast of a record.
The album opens with One More Time. "That One More Time? The one with-"  Yeah, that's the one. Daft Punk's biggest hit until their recent Get Lucky is a song that millions of people recognise. It's infectiously catchy, easily playing to your mind for days on end. With a slick vocaloid effect on the lead vocals, it sets a prime example of what else is to come.
Out of nowhere, One More Time ceases and we hear the ringing of a bell. This was really unusual, and completely out of the blue, and slightly puzzled me at first listen. But what follows is Aerodynamic, a song that evolves multiple times throughout the short three and a half minutes. What starts as a quick funky groove turns into an intense electric guitar riff, a mix of both and then a complete breakdown, completely different to how the song opened. It's a track that still captivates me to this day.
The following tracks keep the same high standard. Digital Love, as mentioned above, is super-catchy pop with simple yet striking lyrics about love.
Last night I had a dream about you
In this dream I'm dancing right beside you
And it looked like everyone was having fun
the kind of feeling I've waited so long
Harder Better Faster Stronger is an incredibly simple yet powerful song, that creates a superbly energetic anthem with less than twenty different words. The song was sampled for the chorus of Kanye West's "Stronger", but I much prefer the original. Crescendolls is another upbeat song with minimal vocals, while Nightvision is a much more relaxed song, which helps to break up the fast-paced action of the previous songs and serves as a soothing interlude.
Superheroes and High Life continue the trend of speedy songs with few lyrics, retro vibes and constant evolution. Something About Us slows the album down with a very funky bassline and, in a similar way to Digital Love before it, heart-felt lyrics. Voyager and Verdis Quo bring us back up to a more disco sound, with both songs (but Voyager in particular) being great for chilling out to in the background.
Short Circuit is one of my favourite songs in the album. It starts of fairly simplistic with nothing more than a simple drum beat and a synthesizer, but half way through it sounds like the song has just being dropped in the toilet and is struggling to play, with disturbing sounds like a electronic toy that's had its day.
Face To Face and Too Long are similar songs with actual choruses and verses (yeah, not what we've come to expect from this album), but both are enjoyable to listen to. Too Long lasts an impressive ten minutes, really staying true to its name (a bit like this review, as the word count approaches one thousand).
---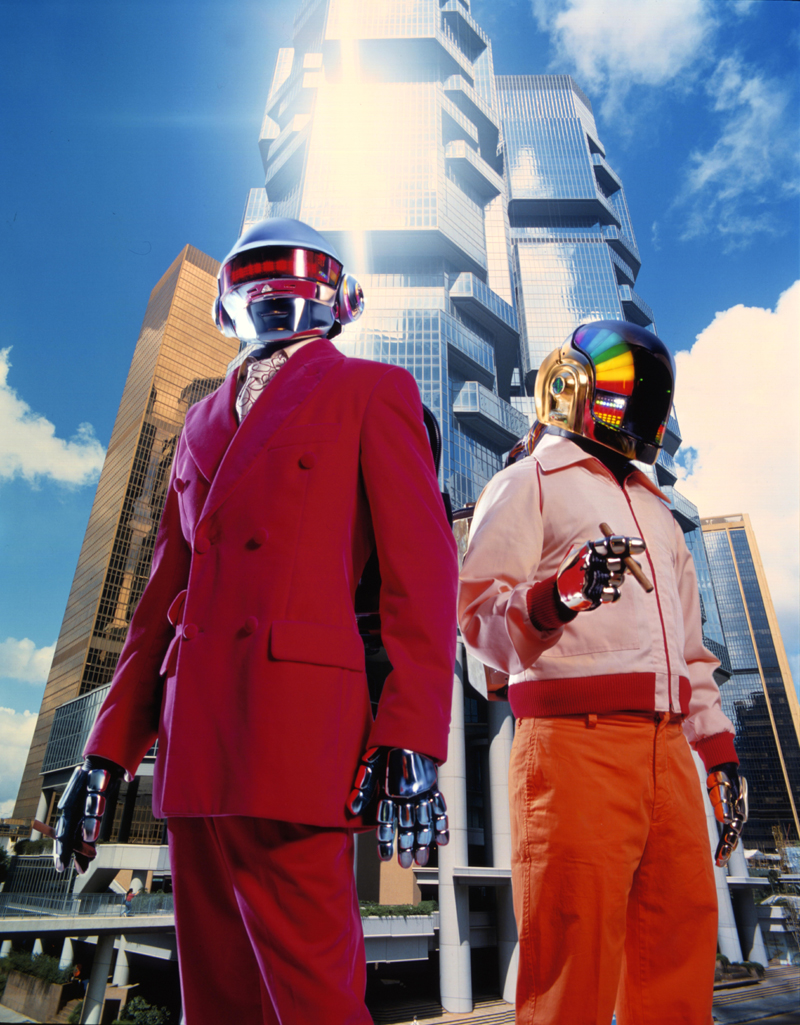 All in all, this album can only be summarised as a perfect album. It's the album that popularised Daft Punk, got me into both the artist and EDM in general and opened my eyes to new artists. But in its own right, it's an incredible work of music. The songs differ greatly, yet fit together as one when listened together. Clearly inspired by the disco music from years gone by (which Daft Punk helped revive with their latest album), it is virtually flawless.This is the only album I know that has no bad songs.
It should be noted that the album was also used as the soundtrack to anime movie "Interstella 5555: The 5tory of the 5ecret 5tar 5ystem", an album with no dialogue and very few sound effects that illustrate the story behind the album. 
But without a doubt, if you have interest in EDM, pop, disco, funk or even if you have no interest in any of these as I did, you should listen to this album. There's a reason why I proudly call it my favourite album of all time, having listened to it a countless number of time. And, after giving it a shot, it's quite possible that you'll love it too.
10/10.
I hope you enjoyed this review. I had a few ideas for posts this month, but this is what I decided to go with. Expect more review-type content to come next month, as I don't think a Tumblr-style feed is what I want this blog to become. If you enjoyed this review, I also reviewed Daft Punk's latest album, Random Access Memories last year. You can read that post here. If  you've any feedback, please post a comment down below; I'm always looking on ways to improve my writing. Thanks for reading!